Sportlots Re-Write Status Updates
Sportlots is in the early stages of a complete re-write of our website. There are three main goals for this re-write:
To make the site mobile friendly. 75% of Sportlots using are on a mobile device.
To utilize more modern technologies for improved efficiency.
Improved site navigation.



While additional functionality is not one of our main goals, we will be implementing some new functionality when it doesn't significantly impact our timelines.




Sportlots has decided to implement this re-write with a phased approach. A phased approach allows us to provide some benefits sooner and also eliminates the risks of implementing system-wide changes all at once. However, the downside of a phased approach is that there will be some minor site navigation inconveniences from time to time. With each phase, we will highlight how to best navigate through any short-term issues.



Phase 1: Seller Profile Screens (Completed: 12/29/2022)

This first phase enabled us to implement standardized headers and footers that will be used throughout the website while limiting the audience and risk.



Phase 2: Sportlots main page (Completed: 1/20/2023)

This brings awareness of the re-write to the entire Sportlots community and provides a mobile friendly first impression to first time users.




This phase does bring some changes and temporary navigation issues to be aware of. Please watch this short video to see some of these issues and how to navigate around them.




Using Lighthouse, an analytical tool that measures website design based on 4 major categories, we can see the improvements as a result of the rewrite of the Sportlots main page for both desktop and mobile users: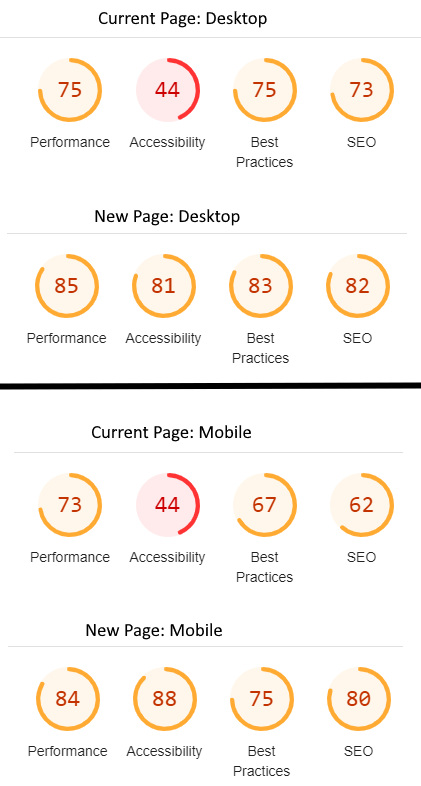 Here is the current short-term implementation plan:



Check back here periodically for updates. I plan on updating this document at least once a month with the latest updates.